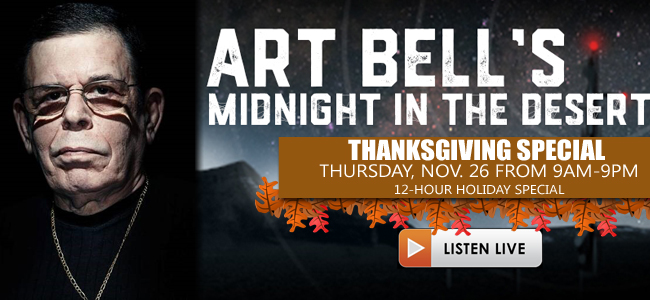 TalkRadio 790 KABC and Master of the Unexplained and Paranormal Art Bell, present "An Art Bell Out-Of-This-World Thanksgiving Special," on Thursday, November 26 from 9AM-9PM.  This 12-hour holiday special features programs hand-picked by Bell, the late night radio legend, exclusively for KABC listeners to enjoy on Thanksgiving Day.
Bell, who joined the KABC lineup just before Halloween, personally selected these programs for air in this unprecedented daytime offering from radio's King of the Night.
Bell said: "We are thrilled to be back on the great 790 KABC, where we had great success.  My loyal fans will love that I'm personally hand picking the best twelve hours of out-of-this-world radio."
KABC Operations Director Drew Hayes added, "This Art Bell special goes great with turkey and stuffing, and is the perfect program for families at home or traveling, to enjoy and be spellbound together."
The strange and unexplained, with and all the oddities and quirks of life are explored and debated in a style perfected by the radio groundbreaker, Art Bell.  "Midnight in the Desert with Art Bell" airs Monday through Friday from 10PM to 1AM on TalkRadio 790 KABC.