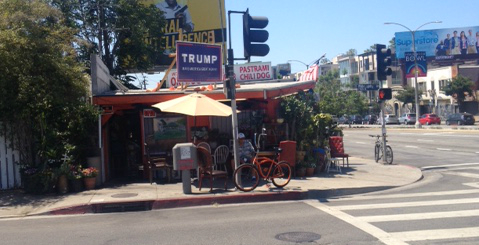 A "pro-Trump" sign has been drawing some reaction …after it's been added to the roof of a Fairfax-district restaurant..
It was at the Oki-Dog restaurant at Fairfax and Willoughby…the sign read: "TRUMP–Make America Great Again".
Here's a sampling of what people have been saying about it.
SAMPLING:
"I don't think he should be doing that especially if he has Hispanic workers and all that".

"I think the people have a right to support who they want to support..that's why this is a democracy'.

'Some of his views I agree with and I see with his campaign they're promoting his business and being a President in a good way".
The owner of Oki Dog could not immediately be reached for comment.