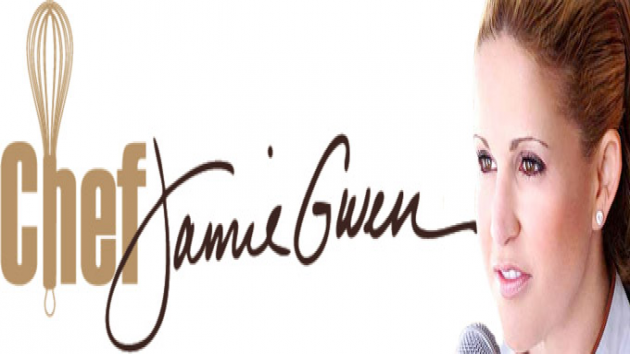 Brimming with culinary talent and wisdom, Chef Jamie Gwen whips up delicious recipes and culinary delights for television and radio audiences around the globe.  A graduate of The Culinary Institute of America, Jamie is a Certified Sommelier, 4-Time Cookbook Author, Food Correspondent and Lifestyle Expert who shares recipes, resources and tips to help make everyday more delicious.
With 14 Years of radio success, Jamie's weekly live radio show, "Food & Wine with Chef Jamie Gwen", continues to be the most adored and followed culinary talk show on the radio for true "foodies".  Jamie can be heard on Talk Radio 790 KABC in SoCal and on 50 Radio Stations across the U.S. along with worldwide on iTunes.
Listeners are treated to a jam-packed hour of Celebrity Chef and Cookbook Author Interviews, seasonal recipes, wine knowledge, hot restaurants and cool tips.  Jamie entices cooks of all levels and incorporates culinary advice, lifestyle ideas and wine education. Each week, Jamie creates an engaging show for people who love to cook, eat and drink!
BIO:
Jamie Gwen is a Celebrity Chef, Certified Sommelier, Lifestyle Expert and four-time Cookbook Author who can be seen stirring up something delicious on television, on the radio and in print from coast-to-coast for more than a decade. She brings the best to radio with her weekly Syndicated Radio Show, filled with delicious conversation on all things culinary, heard every Sunday on 50 Radio Stations across the country and in Southern California on Talk Radio 790 KABC. Her recent victory on the Food Network's "Cutthroat Kitchen" has brought even more acclaim to Chef Jamie's California Comfort Food and her simple, seasonal approach to making every day more delicious.
 Most recently, Jamie served as a Judge for Fox TV's Master Chef alongside Gordon Ramsey, Graham Elliot and Joe Bastianich. Jamie can currently be seen on L.A.'s number one morning show on KTLA Channel 5, on HSN and in National Television Satellite Media Tours, sharing her seasonal lifestyle approach and her passion for food. And, her recipes are featured on Microsoft's worldwide Food & Drink App, seen by over 200 million Windows 8.1 users. Jamie's most recent cookbook entitled "Good Food For Good Times 2" is now available as an eBook and has been featured on The Talk, Emeril Live and Martha Stewart and her sizzling restaurant reviews can be found in Modern Luxury's Riviera Magazine.
She is a graduate of The Culinary Institute of America and her website, chefjamie.com, is a scrumptious resource for food lovers everywhere.